Sports
Daicos raise for Pies as 119-game streak ends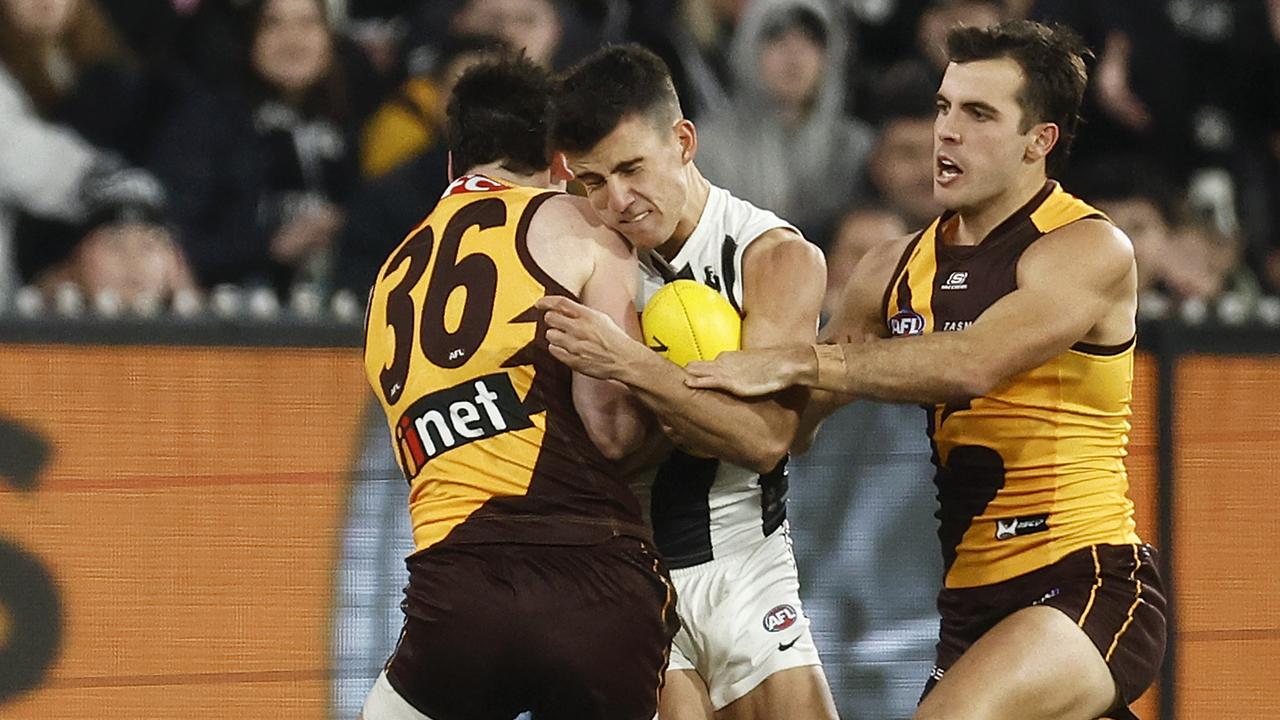 Collingwood star and Brownlow medal hopeful Nick Daicos is crutchless and "ahead of schedule" in his recovery from a knee injury, with his return for the AFL Finals looking increasingly likely.
Daicos, who was considered a favorite for a time for Brownlow before injuring his knee in the 21st-round loss to Hawthorn, expected a recovery period of up to six weeks.
He's missed the last two games and wasn't expected back until last weekend's prelims if the Magpies, who lead the rankings, make it that far.
On a positive note, however, the 20-year-old has made better progress than expected and while no timetable has been set for his return, it could be sooner than expected.
"Nick Daicos is off the crutches ahead of schedule in his knee injury rehab," Magpies high-performance boss Jarrod Wade said Tuesday.
"The young midfielder has started cycling, gym and pool exercises and is expected to start running in the next two weeks.
"Another update on his return-to-game schedule will be announced in the coming weeks.
More good news for the Magpies, who have lost three of their last four games, is that Collingwood will call on star midfielder Jordan De Goey (glute) and small forward Bobby Hill (hamstring) for Friday night's game against Essendon.
De Goey trained over the weekend and returned to high-speed training, while Hill will be available for selection if he survives training this week after scans showed no damage to his hamstrings after missing last week's defeat to Brisbane.
Collingwood captain Darcy Moore is also making "strong progress" after suffering a hamstring injury in the 22nd-round win over Geelong and should be ready for the first week of the finals after the bye weekend before the final.
"[Moore]is back to about 80-85 percent running speed and could participate in a game simulation in the bye week leading up to the finals," Wade said.
"Moore is on track to be available for selection for the first week of finals."
While the news was good at Collingwood, it was less positive for the Western Bulldogs as midfielder Jack Macrae's 119-game streak came to an end after he was diagnosed with a delayed concussion, putting a damper on their finals hopes.
Macrae played out the surprise defeat to West Coast Jack Macrae last Sunday but suffered a concussion after the game and will miss his side's competitive game against Geelong.
The Bulldogs need to win and hope Carlton beats GWS to reach the finals or Macrae's season is over.
"Shortly after the game ended, Jackson developed some mild symptoms which he reported to our club doctor," said Chris Bell, the Bulldogs' chief of sports medicine.
"Jack then failed a concussion test and was immediately put on the record."
"Jack will be assessed this week before a plan for returning to the game is developed."
But Tom Liberatore will return after missing last week, also with a concussion in the Geelong clash, where the Bulldogs have not won since 2003.