Sports
'Jonny was steaming': The Australian's two-word response in confrontation with Bairstow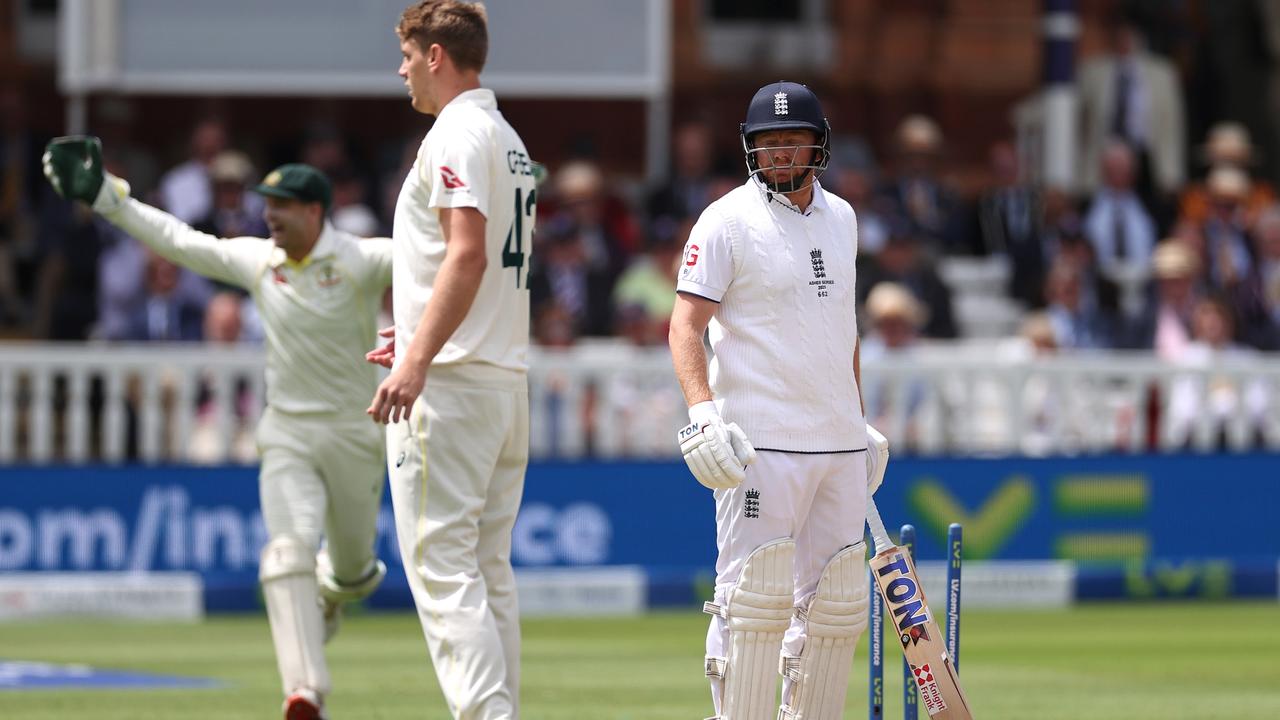 Australia's players have revealed the tense aftermath of Alex Carey's controversial Ashes win over Jonny Bairstow.
In an interview with The Grade Cricketer, Mitch Marsh, Travis Head, Marnus Labuschagne, Usman Khawaja and Steve Smith described the tense – and at times hilarious – scenes in the Lord's dining room after Carey discarded the stumps as Bairstow left his running area.
Labuschagne said Bairstow was "absolutely steaming" and finally asked the Australians: "Are you guys happy with that?"
David Warner's response was "Yes, very much," which did little to lighten the mood.
It didn't help that UK broadcaster Sky Sports continued to loop the controversial incident, so it was broadcast into the dining room for players to follow.
"The Sky crew knew Jonny was in there and just replayed it on screen. And while you're doing that, everyone is watching," Labuschagne said.
"As he watched us all watching, he asked himself, 'Are you happy with that?'
"Dave Warner spits out his chicken and says, 'Yes, very much.' The only word that was said."
Khawaja echoes the story: "Everyone had food in front of them except Jonny Bairstow. I thought that was a bit off," he said.
All-rounder Mitch Marsh said he struggled to control himself.
"Remember how the teacher used to scold you at school and tell you not to laugh? "Well, I was trying to eat my soup," Marsh said.
"If you can imagine, I'm eating my soup and I'm shaking and I'm just trying to look down, and then I'm looking up at Jonny and I've got pumpkin soup running down my pants."
Marsh said he was convinced at least "some" England players were laughing as the drama unfolded.
Khawaja added: "I went out with some of the English guys and they were giggling. He still hasn't eaten anything. He sat there the whole time. I finished and left, and Jonny hadn't touched anything."
Fast-paced off-pace bowler Cameron Green helped Australia win Lord's and lead the Ashes 2-0 on Matchday 5.
The incident was hotly debated around the world, but Carey later said he would outwit Bairstow again if given the opportunity.
Carey later said, "We got feedback pretty straight away. It's one of those things where a loss on the field is turned into a massive story. I think everyone is entitled to their opinion and absolutely respects it. And then everyone is entitled to their opinion on the spirit of cricket."
Originally published as 'Jonny was steaming': The Australian's two-word response in confrontation with Bairstow