Sports
NFL legend Aaron Rodgers' brutal "uncomebackable" ride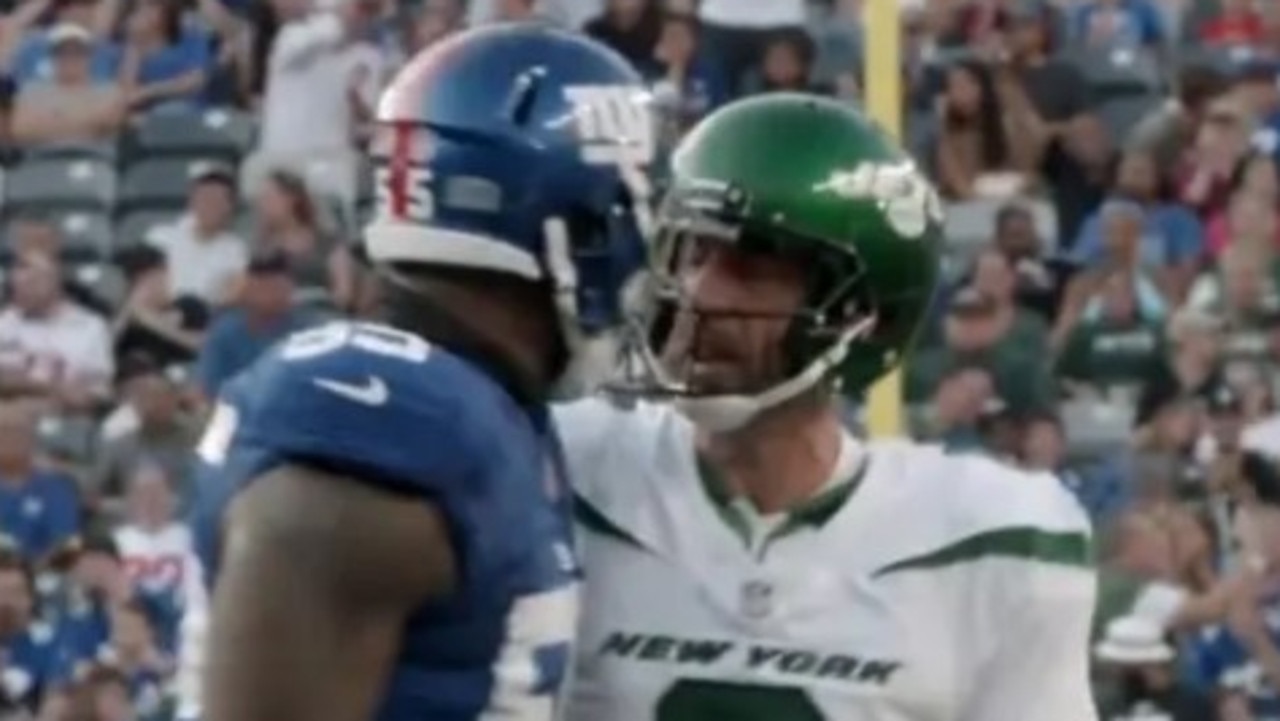 During the snap last Saturday, before Jets quarterback Aaron Rodgers capped his preseason cameo with a touchdown pass to Garrett Wilson, Giants outside linebacker Jihad Ward "poked the bear."
And Rodgers wasn't thrilled.
And luckily the cameras for HBOs Hard hits was right there to catch it all.
Watch an average of 6 NFL games LIVE on ESPN via Kayo Sports each week. Sign up now and start streaming right away >
As Rodgers drifted back in the first quarter of the game and completed a pass to Mecole Hardman, Ward continued to charge at the quarterback and shoved him.
So Rodgers pushed back. He asked Ward, "What the hell is that?"
Then Rodgers dropped a phrase he later described as "uncomebackable."
"I've never heard of you," Rodgers said during the episode.
In the penultimate episode of Hard hitswho has followed the Jets throughout training camp has allowed Rodgers' competitive side – a fundamental element of his 10 Pro Bowls and four MVPs – to shine through.
That included a training session by the Jets and eventually their 32-24 preseason win over the Giants, which led to plenty of F-bombs, a bit of genuine anger and a glimpse of a different side of the 39-year-old quarterback.
"I threw the ball and he took five steps and pushed me," Rodgers said while standing on the Jets touchdown after the touchdown, as seen in the episode.
"I said, 'I don't even know who you are.' And he said, "I don't know who you are."
"And I said 'Bulls**t'."
The episode captures the lingering signs of the honeymoon phase that has shaped Rodgers and the Jets' relationship since he first declared his intention to play for them.
A young fan was shown telling Rodgers not to retire anytime soon, and Rodgers responded by asking why he wanted to do that.
He joked with Jets receiver and longtime Packers teammate Randall Cobb after Cobb was penalized for an illegal blindside block against the Giants.
Rodgers helped the first-team offense pass their first Test against the Giants.
He threw a ball to Wilson for a touchdown, made another tag with Ward, and ran to the sidelines to end his Jets debut.
"That quarterback is damn good, mate," head coach Robert Saleh seemingly said to someone on the other end of his headset after the touchdown.
But earlier in the week, during a Jets practice session, the offensive ran into trouble.
Rodgers tried to hit tight end Jeremy Ruckert but watched as DJ Reed helped stop the pass and the ball fell to the ground.
Rodgers' next five words contained two F-Bombs.
He yelled that the play should have been "damn easy at 12-14 yards."
When he reached the sidelines, his anger continued.
"F**king dropped three damn balls," Rodgers said. "Three damn wrong routes and one damn false start."
However, the next few minutes of the episode brought to light another quality of Rodgers: his ability to unleash a stagnant offense.
He called Wilson to "my office" and explained the route they were to take.
As the offense returned to the field, Rodgers and Wilson connected with a pass through the middle, with Wilson wide open.
Allen Lazard also caught a deep TD throw.
"Show it," offensive coordinator Nathaniel Hackett joked from the sideline, and everyone was happy with the offense.
Rodgers' solution had worked again.
This story first appeared in the New York Post and has been republished with permission.