UK News
Tributes to Youghal Ironman competitor Brendan Wall ahead of Thursday's funeral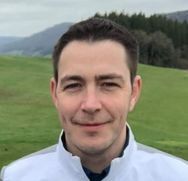 Mr Wall (44), originally from Cardrath in Slane, County Meath, worked as a sales manager for a company in England.
His funeral will be held at Grangegeeth in Meath on Thursday. He is survived by his fiancée, his parents and three siblings.
In his statement on RIP.ie, Brendan "tragically died during Ironman 70.3 Cork". His loving fiancee, Tina, feels deeply sorry for him."
"Parents Oliver and Gertrude (née Lynch), brothers Martin and Joe, sister Maria (O'Connor), sisters-in-law Denise and Sinead, brother-in-law Paddy, nieces Casey, Aine and Lauren, nephews Daryl, David and Noah, aunts, uncles, relatives and a large circle of friends."
He will rest at the Watters Funeral Home in Collon on Wednesday from 4pm to 8pm. His funeral service will be held at 1pm on Thursday at St Brigid's Church, Grangegeeth in Slane, followed by burial in the adjacent churchyard.
In the condolences section, people have left numerous messages of condolence, including: "Sincere condolences to Maria and the entire Wall family on the sudden loss of Brendan."
Another added: "Deepest condolences to Tina and the Wall family. An absolute gentleman – fond memories of his time at ATA."
Another stated, "My condolences to Tina and the Wall family on the early and tragic loss of Brendan." His former colleagues at ATA were deeply shocked when we heard the news. Brendan was a gentleman and our thoughts are with you at this difficult time. Rest in peace."
The other deceased, Ivan Chittenden, 65, of Toronto, Canada, was a retired accountant who had competed in several endurance events around the world.
Meanwhile, two separate investigations into the deaths of both competitors are ongoing.
Finance Minister Michael McGrath and Cork County Mayor Frank O'Flynn said it was clear there was now a need to investigate all the circumstances in which the two athletes lost their lives in Youghal last Sunday.
Mr McGrath, speaking at the opening of a new €22m new 30-bed, two-room building at Mercy University Hospital Cork (MUHC), said it was important that "the questions asked are fully answered".
Both competitors ran into trouble in the first 1.9km sea swim of the Ironman event.
Despite desperate efforts by paramedics and doctors to save them, both men were pronounced dead at the scene in Youghal before they could be taken to a Cork hospital.
Due to the difficult conditions resulting from Storm Betty, the sea swim course had been shortened to 1.9 km.
However, participants found the first 200m of swimming to be very challenging – many struggling with rough swell, crashing waves and strong currents as they entered the water.
Youghal locals have now wondered whether the sea swim should have taken place given the conditions and whether the entire Ironman event should have been canceled following the double tragedy early Sunday morning.
Mr McGrath said it was vitally important that all the circumstances surrounding it were now fully scrutinized.
"It is a terrible tragedy. My condolences go out to the families of the two people who tragically lost their lives in Youghal yesterday," he said.
"I know Ironman Ireland will of course be conducting its own inquiry to establish the full circumstances of what happened and of course the post mortems will take place today (Monday) and these will eventually feed into the coroner's hearing like that."
"But it's a terrible, terrible tragedy – it's clear from the testimonies of many other participants that the conditions in the water were particularly challenging."
"I am very aware that two people just died yesterday. Our thoughts and prayers go out first to the families who must be in a terrible state of shock and grief at this time."
"But when two people lose their lives in circumstances like these, it is obviously important that the full facts of what happened are established and that any questions that are asked are fully answered."
"I have no doubt that the organizers of the event will conduct a full investigation into what happened. Cork County Council are the main sponsors of the event and I have no doubt they will want a full report on the events as well."
"Water Safety Ireland (WSI) may also ask questions and want to fully understand the facts and circumstances of what happened. It is such a terrible tragedy."
Cork Co Council is the main sponsor of the Ironman event and Mayor Frank O'Flynn said he wanted to see the report of the double tragedy.
He said both the council and the Ironman organizers had tight security procedures in place to ensure the safety of everyone involved.