World
Bill Maher urges Vivek Ramaswamy to stop rapping on campaign trail: 'I'm just telling you as a friend'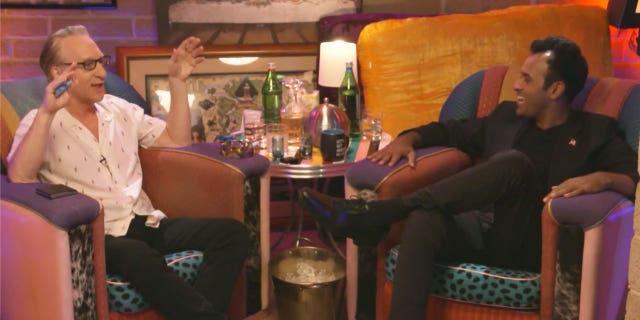 Liberal comedian Bill Maher urged Republican presidential candidate Vivek Ramaswamy to stop campaign rapping.
In recent weeks, Ramaswamy has embraced his roots from "Da Vek," his college-era alter ego who raped his classmates at Harvard and Yale.
The Republican nominee took up freestyle rapping during a performance on Fox & Friends last month and went viral at the Iowa State Fair earlier this month for performing Eminem's hit song "Lose Yourself."
On Sunday's Club Random podcast, Maher brought up the term "Renaissance man," something he described as someone who "does anything."
BILL MAHER TELL VIVEK RAMASWAMY 'YOU COULD GO REALLY FAR' IN THE GOP-PRIMARY: 'YOU ARE SUCH A LIKEABLE GUY'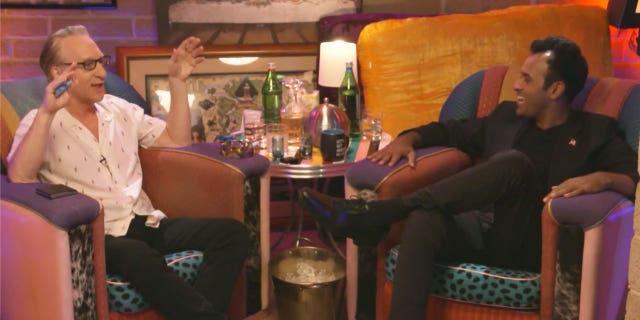 "Well, I'm into it. I'm into it," Ramaswamy said.
"You're a Renaissance man," Maher marveled.
"I wouldn't call myself a Renaissance man, but I respect the ideal and yes, I have diverse interests," Ramaswamy replied.
The entrepreneur listed activities he did campaigning and admitted he makes his team "nervous," from playing Richard Nixon's piano to playing tennis with college kids to rapping at the Iowa State Fair.
"Oh, I saw that. Don't do that again," Maher said.
"Oh, why not?" asked Ramaswamy.
"Because things didn't go well for Kendall Roy on 'Succession,'" Maher replied, referencing a character from the hit HBO series.
RAMASWAMY FIRST TO RECEIVE ASSISTANCE FROM AN IOWA STATEWIDE OFFICIAL
"People who aren't rappers, rapping is easy — I'm just telling you guys as a friend," Maher continued.
"My view, Bill, is that I do what I feel like doing," Ramaswamy doubled down, adding, "That's the spirit of our Renaissance man."
"Yeah, that's the problem," Maher shot back. "The President's idea of ​​'I'll do whatever I want, whenever,' isn't exactly appealing. I understand why your team is trying to take you for a ride – just the rapping. Tennis is great."
"Tennis is more fun anyway," added the contestant.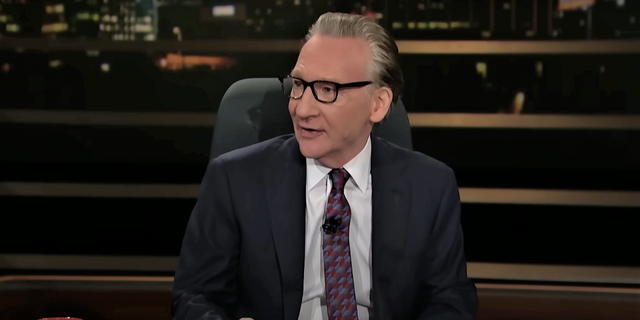 Maher later reminded Ramaswamy to quit rapping while discussing the contestant's appeal to "young men."
"You're going to appeal to young men, and young men tend to, right? I think those are the hardest people to get into the voting booth. They see a guy who looks like you, again not rapping, but look, you." "Dress up. You look like you could be in a club," Maher said.
RAMASWAMY STRIKES BACK DESANTIS and hints he's a 'super Pac puppet' after leaked memo points to attacks on government debate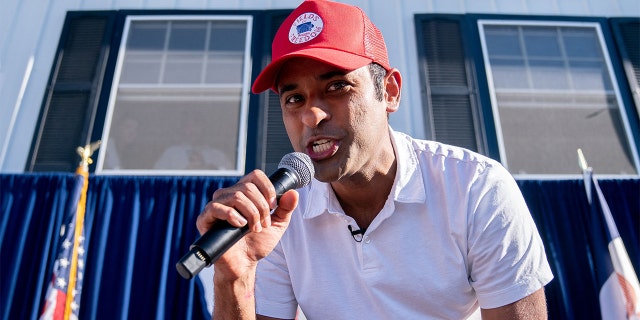 While Maher isn't particularly thrilled with Ramaswamy's musical ability, he still showered the millennial contestant with numerous compliments.
"It's funny, you're such a good talker and you're such a personable guy. I think you could go really far," Maher told Ramaswamy.
"I have to say that you're one of the few guys I find both disarming and unsettling," Maher chuckled.
"Thank you, thank you Bill," Ramaswamy grinned. "That is a compliment."
CLICK HERE TO GET THE FOX NEWS APP
"No, I'm serious," Maher doubled down. "Look, you look attractive. you are young First, you have a great advantage here. Biden and Trump, people hate this duel, and they hate these two geriatrics. You are, so to speak, the most not."
After the millennial nominee pointed out that both President Biden and former President Trump are "more than twice his age," Maher jokingly added, "They have color in their faces. It's not orange or spooky."
For more information on Culture, Media, Education, Opinion and Channel Coverage, visit foxnews.com/media