Health
She paid her husband's hospital bill. A year after his death, they wanted more money.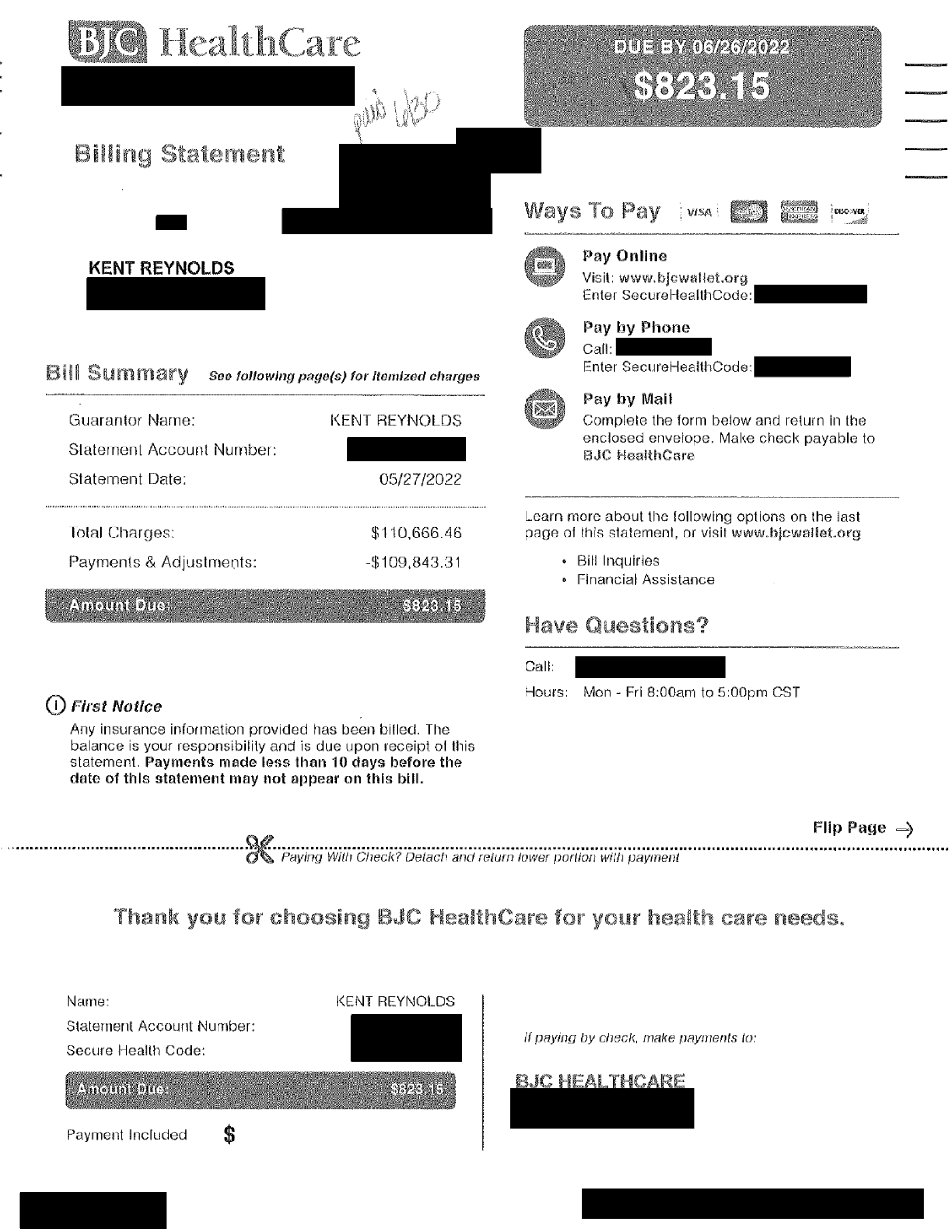 Last summer, Eloise Reynolds paid the bill for her husband's final hospitalization.
In February 2022, doctors said Kent, her husband of 33 years, was too frail for the routine chemotherapy that had kept his colon cancer at bay since 2018. He was admitted to Barnes-Jewish Hospital in St. Louis, not far from their home in Olivette, Missouri.
Doctors found a partial obstruction in his bowel, Reynolds said, but she remained hopeful his treatment would be resumed soon.
"I remember calling our kids and saying, 'Okay, that's all really good news. We just have to give him some strength back and make him feel good,'" she said.
But years of chemotherapy had taken its toll on his body, and he told his wife he couldn't go on any longer.
Kent was discharged and began home hospice care. He died the next month at the age of 62.
When Reynolds received the hospital bill, she paid the $823.15 allegedly owed by her husband. She scrawled "paid" on the bill, commemorating the date of June 30, 2022 — the financial endpoint, she thought, of Kent's years of treatment.
Then the bill came (again).
The patient: The late Kent Reynolds was insured through his Illinois-based employer with Blue Cross and Blue Shield of Illinois.
Medical service: A 14-day hospitalization related to complications from colon cancer, including a partial bowel obstruction.
Service provider: BJC HealthCare, a tax-exempt healthcare system that operates 14 hospitals primarily in the St. Louis area, including Barnes-Jewish Hospital.
Total bill: The hospital charged $110,666.46 for the stay before any payments or adjustments. The insurer negotiated the price down to $60,348.77, and Reynolds paid the $823.15 the patient owed, according to the hospital. Then, a year after her husband's death, she received a new version of the bill from the hospital, which billed her an additional $1,093.16.
What gives: Reynolds encountered a confusing reality when it came to medical billing: Providers can — and do — chase patients months or years after a bill is paid to collect more money for services.
The new bill said Kent Reynolds had been placed on a payment plan and the first "monthly installment" on the nearly $1,100 balance was due soon.
The patient charged more
She said she called both the hospital and Blue Cross and Blue Shield of Illinois to seek answers, but received no explanation that made sense to her.
According to Reynolds, a BJC HealthCare representative told her that the insurer had paid more than it owed, which meant the healthcare system had to reimburse the insurer and charge the patient more.
Reynolds said she grabbed a ruler, which she used as a straightedge, and went line by line, comparing both bills to see what had changed, a task that brought up painful memories of her husband's final days have. The amount for each individual bill—medication, lab tests, supplies, and more—was the same on both bills. The sum hadn't changed.
Only three aspects of the bill had changed: the adjustments; the amount paid by the insurance company; and what the patient owed.
Adjustments or rebates are amounts that can be deducted from a medical bill, typically as part of the provider's pre-negotiated contract with an insurer. Insurers and providers agree on lower intra-network rates for services rendered to insurer-covered patients.
Reynolds also received an EOB, or Explanation of Benefits notice, showing that the insurer reviewed the bill in February, a year after the hospitalization. The document said the hospital's cost of her husband's private room — which totaled nearly $77,000 — was higher than the room rates negotiated by his health insurance company, which did not cover the full cost.
The EOB found that the patient could still owe the hospital $50,216.31 for room expenses — a startling amount — though Reynolds ultimately didn't receive a bill showing she owed that much.
Reynolds said she spent hours trying to understand the items in the hospital and insurance records because they used medical abbreviations and were grouped differently in the documents.
"It shouldn't be that hard for a widow to figure out what the medical bills were," said Erin Duffy, a research fellow at the University of Southern California's Schaeffer Center for Health Policy and Economics.
Blue Cross and Blue Shield of Illinois declined to comment, although Reynolds had received a signed federal privacy waiver.
The resolution: Not knowing what had changed and how much she owed, Reynolds held back on paying the second bill. After KFF Health News contacted BJC HealthCare, Laura High, the system's media manager, said the allegations stemmed from an "office error". Reynolds is out of credit, High said in an email in May.
"I was shocked by that," Reynolds said. "I'm sure most people I know would have paid for it."
High did not answer questions about the cause of the billing error or the frequency of such errors.
However, Duffy provided a different explanation for the allegations. "It doesn't appear to be a mistake," she said. "It seems consistent with the design of their insurance plan."
She said it appeared that the $1,100 additional fee — fixed a year later — represented Kent's co-insurance portion of the private room fees, which she found as a recurring line item on each page of the bill under the "Oncology/PVT" heading.
While his co-insurance liability could have amounted to 10% of room charges paid by the insurer — potentially a huge amount — Kent had reached his out-of-pocket co-payment cap for the year, so charges didn't reach the full 10% of room charges, Reynolds said .
Take away: In the United States, medical bills and insurance bills present a tedious puzzle for patients trying to figure out what is actually owed. The first rule of thumb is "don't pay the bill until you've received the EOB," which is the insurer's account of what you owe and what the insurer will pay, said Kaye Pestaina, co-director of the KFF program Patients – and consumer protection.
Also, request a detailed breakdown of fees and compare them to the EOB.
Medical billing experts said that standardizing terms and other details on medical bills and EOBs would help patients tremendously in this endeavor.
Some states have taken steps to give patients more information about healthcare costs, including by simplifying medical bills. In 2019, New York state lawmakers proposed requiring hospitals to issue bills to their patients in plain language, including a detailed list of services marked as paid for by the insurer or owed by the patient. The proposal, which was not implemented, required hospitals to send patients a single bill within seven days of leaving the hospital.
There is a lack of control over medical bills
Reynolds' experience highlights the lack of laws and standards for how long providers must bill and review medical services. Insurers can dictate in their contracts how long providers must file claims; The Medicare program has a term of 12 months Border for example to make claims. However, Dave Dillon, a spokesman for the Missouri Hospital Association, said there is no law limiting the amount of time providers must bill patients.
Creditors may seek payments from a deceased person's estate to collect whatever they can, said Berneta Haynes, a senior attorney at the National Consumer Law Center. In Missouri, in certain cases, a living spouse can be held responsible for a deceased spouse's medical bills, said Terry Lawson, senior attorney for Legal Services of Eastern Missouri.
Experts said they hadn't determined that Reynolds could have done anything differently, pointing out that it was the system that needed to change.
"When can she put those hospital bills behind her?" asked Duffy.
KHN (Kaiser Health News) is a national newsroom producing in-depth journalism on health issues. Along with Policy Analysis and Polling, KHN is one of the top three operating programs KFF (Imperial Family Foundation). KFF is a non-profit foundation that provides the country with information on health issues.